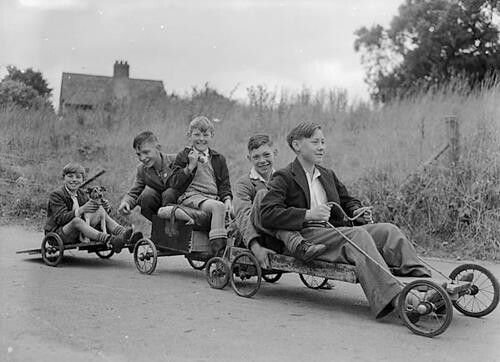 I have used all types of wheels to for go-karts when I was a lad, small lawn mower wheels, and castors of an old sofa even shopping trolley wheels anything I could get my grubby hands on.
The best wheels I found in the end were the old silver-cross wheels because of the simple push-on clip mechanism, which was much preferred than messing around with split pins and washers. I still build go-karts to this day and enjoy the fun it brings to the kids and surprisingly to the older neighbours that often say I remember making one of those.

A chap called Tony kindly donated this 1976 picture with his double decker kart when he was a lad. These days its becoming more difficult to find suitable wheels for go-kart making specially the chrome spoked silver-cross type.
Wooden karts are still the best fun for young kids and can be knocked up in the shed at the weekend in just a few hours. And its not just the boys that like to get involved my girls can't wait to speed around the block at the weekend.

My next project is an electric kart using batteries and motors from an old mobility scooter plus it will have reverse and variable speed control so there will be no more pushing involved thank god!!